Inside Out Project in New York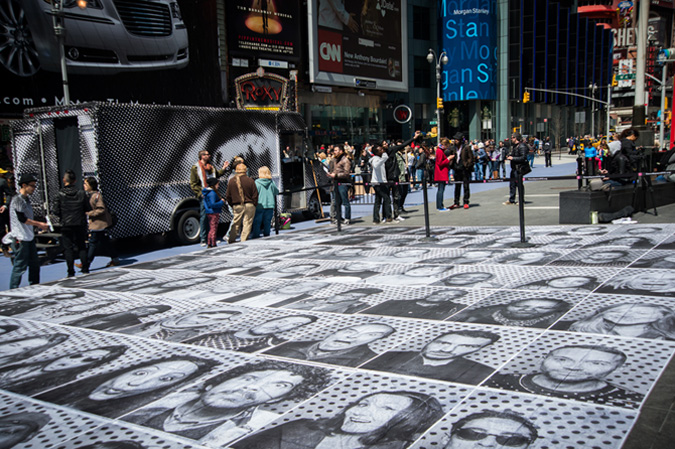 From April 22 to May 10, 2013, for INSIDE OUT NEW YORK CITY, JR and his team invite New Yorkers and visitors to take self-portraits in a photo booth truck stationed in Times Square, the site of the world's first ever photo booth almost 100 years ago. The posters will be pasted on Duffy Square in Times Square, or in the home community of the portrait's subject.
The project will activate Times Square as a creative hub—engaging the boroughs of New York as the photo booth truck makes early visits to the Bronx, Staten Island, Queens, and Brooklyn. The initial portraits will feature community members from New York City neighborhoods affected by Hurricane Sandy—the Staten Island waterfront, the Rockaways, Red Hook, and Coney Island.
INSIDE OUT NEW YORK CITY coincides with the world premiere of the HBO Documentary Film, INSIDE OUT: THE PEOPLE'S ART PROJECT, at the Tribeca Film Festival on April 20th.
INSIDE OUT NEW YORK CITY is inviting group action—schools, neighborhood groups, organizations, and individuals from throughout the city to visit the photo booth truck in Times Square, have their portraits taken instantly, and bring the posters back to display publicly in their home communities. Community members interested in participating can contact the INSIDE OUT PROJECT team at nyc@insideoutproject.net.