About the Project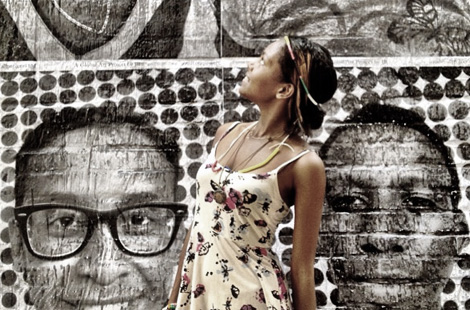 Beyond any political debate about 11 million undocumented immigrants living in the U.S., these portraits remind us that behind the numbers are real human stories. Inside Out 11M aims to represent the diversity and unity of people that can call America home.
The project takes part in Inside Out, a global participatory art project initiated by the award-winning artist JR to pay tribute to the power and dignity of individuals by displaying their portraits in public spaces around the world. People share their untold stories and transform messages of personal identity into works of public art.
Inside Out/11M – US Capitol Installation
Join us to call attention to the human stories behind the immigration reform
Last summer, dozens of local and national immigration groups collaborated to encourage Americans from all walks of life to participate in Inside Out/11M. More than 9,000 individuals had their portrait taken and added their face to an outside mural as a way to signal their support for immigration reform. Participants represented a diverse tapestry of the US – business owners, students, artists, parents, scientists, mayors, undocumented, teachers, tech workers – who had one driving belief in common: it's time to fix our nation's broken immigration laws.
On the week of June 16th, 2014 we will elevate the immigration debate by displaying four portraits of immigrants prominently on the front lawn of the Capitol. The large-scale portrait installation shows the human faces and stories behind today's immigration debate. The portraits remind us of the rich contribution immigrants from all walks of life have made – and continue to make – to our country.
Details
Four faces displayed on the West Lawn on the US Capitol
June 16, 17, 18, 20 (9am-4pm)
· Alejandro Morales – Dreamer
· Yonas Hagos – Decorated US Veteran
· Guadalupe Martinez – Farm Worker
· Patrick Collison – Technology Entrepreneur